My Blog - Brookfield, WI Dentist
Posts for: March, 2014
By Brookfield Dentistry S.C.
March 18, 2014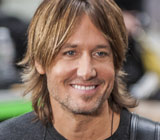 He once lived in Australia, wore his hair in a mullet, and played guitar in a band called The Ranch. Today, country music star Keith Urban looks different than he did when he started out — and it's not just the mullet that's changed. As before-and-after pictures show, he's had a smile makeover. His teeth, which were dull yellow in color, and used to have a large gap in front, are now white and shiny. The gap is still there — though it has been reduced to a more modest size. How did he manage to upgrade his image, yet keep part of his signature "look" intact?
Cosmetic dentistry has a number of ways to improve the appearance of a smile like Keith's. One is tooth whitening. It's a simple procedure that can be done in our office or at your home; either way, it's an effective treatment that offers great value. In-office whitening, using the most concentrated solutions under our direct supervision, will give you the fastest results. We can also prepare a take-home kit, with custom-made trays and safe bleaching gels you can use at home. You'll get similar results, but it will take a bit longer.
Of course, whitening isn't permanent (though it can be repeated when necessary); not all teeth can be lightened as much as you might like; and it doesn't correct gaps or unevenness. There's another treatment that does, however: dental veneers. These are wafer-thin coverings made of porcelain, which are bonded to the prepared surfaces of your teeth. They are available in a number of shades — from natural to "Hollywood white" — and can even hide minor chips or spacing problems. That's why veneers are often the treatment of choice when you're looking for a "red carpet" smile.
Perhaps the best thing about veneers is that they give you plenty of choices when it comes to designing your smile. You can choose how white you'd like your smile to be, and even fix some "flaws" — or not! So how much you choose to close that gap in your teeth is up to you… but if you're asking our opinion, the mullet has to go.
If you would like more information on dental veneers, please contact us or schedule an appointment for a consultation. You can learn more about this topic in the Dear Doctor magazine articles "Beautiful Smiles by Design" and "Porcelain Veneers."
By Brookfield Dentistry S.C.
March 03, 2014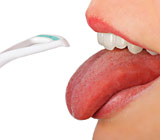 Although usually not considered a serious health condition, bad breath is nonetheless one of the most embarrassing conditions related to the mouth. Although some serious systemic diseases may result in mouth odor, most cases originate in the mouth or nose. Bacteria are usually the culprit — certain types of the organism can excrete volatile sulphur compounds, which emit a rotten egg or rotten fish smell.
The largest breeding ground for bacteria is the tongue, typically in the back where saliva and hygiene efforts aren't as efficient in removing food remnants. A bacterial coating can develop on the surface of the tongue, much like the plaque that can adhere to teeth; the coating becomes a haven for bacteria that cause bad breath.
There seems to be a propensity in some people who exhibit chronic bad breath to develop this tongue coating. To rid the tongue of this coating, people with this susceptibility could benefit from the use of a tongue brush or scraper. These hygienic devices are specifically designed for the shape and texture of the tongue to effectively remove any bacterial coating. Toothbrushes, which are designed for the hard surface of the teeth, have been shown not to be as effective in removing the coating as a tongue scraper.
Before considering using a tongue scraper you should consult with your dentist first. If you suspect you have chronic bad breath, it's important to determine the exact cause. Using a tongue scraper is unnecessary unless there's an identifiable coating that is contributing to the bad odor. It's also a good idea to obtain instruction from your dentist on the best techniques for using a tongue scraper to be as effective as possible and to avoid damaging soft tissues from over-aggressive use.
In addition, don't neglect other hygiene habits like brushing, flossing and regular cleanings. Removing as much bacterial plaque as you can contributes not only to a healthier mouth but also pleasanter breath.
If you would like more information on the tongue and halitosis, please contact us or schedule an appointment for a consultation. You can also learn more about this topic by reading the Dear Doctor magazine article "Tongue Scraping."