My Blog - Brookfield, WI Dentist
Posts for: April, 2014
By Brookfield Dentistry S.C.
April 17, 2014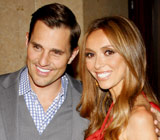 For some kids, having a cavity or two is just part of growing up. Not for Giuliana Rancic. When she was a child, the TV personality didn't have a single cavity — and she still doesn't. But for her husband Bill, co-star of the Style Network reality show Giuliana and Bill, it was a different story. A cavity-prone kid, he was never certain what a visit to the dentist might hold in store. "I can still remember the anticipation," he recently told Dear Doctor magazine. "I always hoped I would get out of the checkups without a cavity!"
Why do some people get more cavities than others? There are a number of factors at work, but to understand it better, let's look at how tooth decay occurs.
How Cavities Form
Cavities — also called dental caries — are small pits or holes in the teeth that are caused by tooth decay. Tooth decay itself is a chronic disease that can flare up when plaque isn't kept under control. A thin, bacteria-laden film, plaque sticks to tooth surfaces both above and below the gum line, and can build up in the absence of effective oral hygiene.
Of course, everyone has bacteria in their mouth, both "good" and "bad" (pathogenic) types. But when the bad guys outnumber the good, trouble can start. When you consume sweets, plaque bacteria process the sugars and release acid as a byproduct. The acid eats into tooth surfaces, causing decay — and cavities that need filling. Left untreated, decay can work its way into the tooth's pulp, resulting in infection and pain. Eventually, treatment might involve a root canal — or, in the worst case, extraction.
What can you do if you seem to be prone to cavities? One effective way to fight tooth decay is by maintaining good oral hygiene. Brush at least twice daily, for at least two minutes each time. Use a soft-bristled brush and a dab of fluoride toothpaste to clean all around your teeth. Most importantly, floss above and below the gum line, every day. And just as important, don't forget to have regular dental checkups every six months.
A Healthy Balance
Another cavity-fighting strategy is eating a balanced diet. Avoid soda, sugary "energy" drinks and sweet treats — but if you choose to consume sugar, have it with meals instead of between meals. This will give your saliva, which has natural cavity-fighting properties, a chance to work.
"It's all about maintaining a healthy balance," Giuliana told Dear Doctor. And Bill agrees: "I love nuts and fruit for a healthy snack," he said, adding that he's meticulous about brushing and flossing. And when the couple smiles, you can see how those healthy habits pay off.
If you would like more information on preventing tooth decay, please contact us or schedule an appointment for a consultation. You can learn more about this topic in the Dear Doctor magazine articles "Tooth Decay" and "Tooth Decay – How To Assess Your Risk."
By Brookfield Dentistry S.C.
April 02, 2014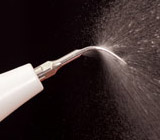 While you may most associate professional dental cleanings with that "squeaky" clean feeling you have afterward, there is a much higher goal. What is also referred to as "non-surgical periodontal therapy," these cleanings seek to remove bacterial plaque and tartar (hard deposits) not only from the visible portions of the tooth but also the root surfaces (scaling), so as to reduce the risk and occurrence of periodontal gum disease.
For generations, this was primarily achieved by dental hygienists using hand-held instruments specially designed to manually remove plaque from tooth surfaces. Since the 1950s, though, a new technology known as ultrasonic or power scaling has become more prevalent in use. Initially only used in the outer most portions of the gum tissue (the supra-gingival area) power scaling is increasingly employed to clean the sub-gingival area, much closer to the tooth roots. As this technology has developed, it's been shown to be just as effective, if not superior in some cases, to manual scaling for removing plaque and tartar.
Ultrasonic or power scalers work by emitting high vibration energy that crushes and removes plaque and calculus (tartar). The resulting shockwaves also tend to disrupt bacterial cell function. The hygienist uses water to flush away the dislodged calculus. They have a number of advantages over manual scaling: they're quite effective on deep gum pockets, especially when specially designed tips are used; they require less time than manual scaling; and when used correctly power scalers are gentler to tooth structures.
However, they do have a few drawbacks. Because they produce an aerosol effect, power scalers can project contaminants from the patient's mouth into the atmosphere, requiring special protective equipment for the hygienist. They're not recommended for patients with hypersensitive teeth, especially regarding temperature change, or for teeth with areas of de-mineralization (the loss of mineral content in the enamel). Care should be taken when they're used with implants or porcelain or composite crowns — specially designed tips are necessary to avoid scratching the restoration. They may also have an effect on cardiac pacemakers.
In the end, the best approach is a combination of both power and manual scaling techniques. Depending on your individual needs, ultrasonic scaling can do an effective job in removing plaque and tartar and help you avoid gum disease.
If you would like more information on ultrasonic cleaning techniques, please contact us or schedule an appointment for a consultation. You can also learn more about this topic by reading the Dear Doctor magazine article "Dental Cleanings Using Ultrasonic Scalers."