My Blog - Brookfield, WI Dentist
Posts for: September, 2014
By Brookfield Dentistry S.C.
September 23, 2014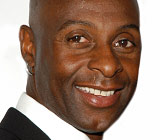 Athletic activity can boost your health, but many sports also carry some risk — especially to the teeth. This is something NFL wide receiver Jerry Rice well knows.
"Football can be brutal — injuries, including those to the face and mouth, are a common risk for any player," Rice noted in an interview with Dear Doctor magazine. In fact, Rice himself chipped a couple of teeth, which were repaired with crowns. "There wasn't a lot of focus on protecting your teeth in high school," Rice recalled.
You don't have to be a legend of the NFL to benefit from the type of high-quality mouthguard a dentist can make for you or your child. Consider that:
An athlete is 60 times more likely to suffer harm to the teeth when not wearing a mouthguard.
Mouthguards prevent an estimated 200,000 or more injuries each year.
Sports-related dental injuries account for more than 600,000 emergency room visits annually.
Each knocked-out tooth that is not properly preserved or replanted can cause lifetime dental costs of $10,000 to $20,000.
You and/or your child should wear a mouthguard if you participate in sports involving a ball, stick, puck, or physical contact with another player. Mouthguards should be used for practice as well as actual games.
It's also important to be aware that all mouthguards are not created equal. To get the highest level of protection and comfort, you'll want to have one custom-fitted and professionally made. This will involve a visit to our office so that we can make a precise model of your teeth that is used to create a custom guard. A properly fitted mouthguard is protective, comfortable, resilient, tear-resistant, odorless, tasteless and not bulky. It has excellent retention, fit, and sufficient thickness in critical areas.
If you are concerned about dental injuries or interested in learning more about mouthguards, please contact us today to schedule an appointment for a consultation. If you would like to read Dear Doctor's entire interview with Jerry Rice, please see "Jerry Rice." Dear Doctor also has more on "Athletic Mouthguards." and "An Introduction to Sports Injuries & Dentistry."
By Brookfield Dentistry S.C.
September 08, 2014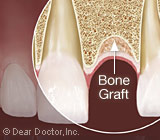 A dental implant can permanently restore the form and function of a missing natural tooth. But there's an important prerequisite for this smile-transforming therapy — you must have enough bone remaining at the implant site to securely anchor the implant and ensure proper crown placement for the most natural looking result.
Patients who don't meet this prerequisite may need to consider other restorative options. In some cases, however, we may be able to encourage sufficient bone growth to support an implantation through a technique called bone grafting.
Bone grafting involves opening the gum tissues at the intended implant site to expose the underlying bone. We then place the grafting material (usually a processed material) around the bone, sometimes with collagen membranes that serve as subterranean band-aids to guide bone growth. In most cases, the graft is actually a scaffold for the natural bone to grow upon; the natural bone will eventually replace the graft material. The procedure is normally performed with local anesthesia to minimize discomfort.
While bone grafting is a fairly routine procedure, it shouldn't be undertaken unless there's a firm prognosis it can successfully support a future implant. We must therefore determine if anything else in your oral health would disqualify you as an implant candidate, even if sufficient bone existed or not. We must also determine if there's enough remaining bone currently at the site to even attach a bone graft.
Once we're satisfied that bone grafting would be both possible and helpful, we must then consider what type of grafting material to use. If we're only replacing one tooth we may choose to use an autograft, bone material taken from another area of your own body. Although autografts have advantages because of their regeneration ability, it does involve creating another surgical site within the body. In most cases we may use processed materials, for example allografts, material that originates from another human being; xenografts, taken from another species of animal; or synthetic (man-made) materials. Regardless of the source, these materials are first processed to be safe for human use.
If successful, the regeneration process will result in enough new bone structure to make dental implants a reality. Your mouth will be healthier — and your resulting smile will be more beautiful than ever.
If you would like more information on bone grafting, please contact us or schedule an appointment for a consultation. You can also learn more about this topic by reading the Dear Doctor magazine article "Can Dentists Rebuild Bone?"