My Blog - Brookfield, WI Dentist
Posts for: April, 2015
By Brookfield Dentistry S.C.
April 23, 2015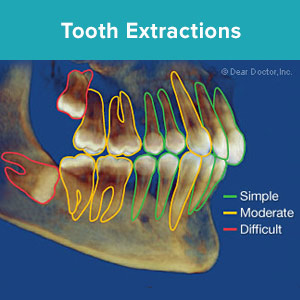 When a tooth is beyond repair due to disease or injury, it may be necessary to remove it. A "simple" tooth extraction is among the most common in dentistry and certainly not the agonizing procedure depicted in common lore.
They're referred to as simple extractions because the shape of the tooth and root allows for a fairly straightforward and uncomplicated removal. An example would be the normally cone-shaped upper front tooth that doesn't offer a lot of resistance during the extraction process.
The process itself is fairly straightforward. Teeth are held in place by the periodontal ligament, an elastic tissue made of tiny fibers that attaches the tooth to the supporting bone. These fibers can be dislodged from the tooth with some careful manipulation — in the hands of an experienced dentist there's a deft "feel" to the fibers loosening. Once they've detached, it requires little effort to remove the tooth; with the aid of local anesthesia, you won't feel anything but a little pressure.
Immediately after the tooth is removed, we commonly insert bone grafting material in the socket to minimize bone loss until a permanent replacement like a dental implant can be installed after tissue healing. We then place sterile gauze over the site for a few minutes to control bleeding and, depending on the size of the wound opening, we may also place a few stitches to close it. We then give you instructions for caring and cleaning the site over the next few days, and prescribe antibiotics to reduce the chance of infection and anti-inflammatory drugs for any discomfort.
Although a simple extraction is a routine procedure, it's important to perform a proper assessment of the tooth and the surrounding bone beforehand, including x-rays to determine the tooth's exact shape and position. If we discover a complication that makes a simple extraction impractical (like multiple roots at acute angles), we may then refer you to an oral surgeon for a more complicated surgical extraction.
It's our hope you'll have your natural teeth for as long as you live. But if you must have one removed, you can rest assured it's a common — and uneventful — experience.
If you would like more information on tooth extraction, please contact us or schedule an appointment for a consultation. You can also learn more about this topic by reading the Dear Doctor magazine article "Simple Tooth Extraction."
By Brookfield Dentistry S.C.
April 08, 2015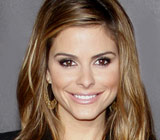 Maria Menounos, an independent filmmaker, actress, and co-host of daily entertainment news program Extra, learned at an early age about the importance of maintaining good general and dental health when her father, Constantinos, a Greek immigrant, was diagnosed with type 1 diabetes. As a result, her parents made sure the family consumed a diet filled with fresh fruits and vegetables, many of which they produced themselves. Maria and her family also consumed little-to-no junk food.
Menounos is still committed to helping those with diabetes. In fact, because she saw first hand the power of communication in the lives of diabetes patients and their families, Menounos is an avid ambassador for the American Diabetes Association.
Maria's experience with diabetes is one that she shares with millions of people worldwide. And if you or someone you care about is suffering from this disease, it's important to be aware of the connection between diabetes and oral health. Recent research has shown a link between two chronic inflammatory conditions: periodontal (gum) disease and diabetes. Evidence consistently reveals that diabetes is a risk factor for increased severity of periodontal disease and conversely, periodontitis is a risk factor for worsening blood glucose control in patients with diabetes and may also increase the risk of diabetic complications. Periodontal inflammation is also associated with an elevated systemic (general body) inflammatory state and an increased risk of major cardiovascular ("cardio" – heart; "vascular" – blood vessel) events such as heart attack, stroke, adverse pregnancy outcomes (e.g., low birth weight and preterm births) and altered blood sugar control in people with diabetes.
If you are interested in learning more about periodontal disease, you can continue reading the Dear Doctor magazine article "Diabetes & Periodontal Disease." Or, if you are diabetic and fear you may have periodontal disease, you can contact us today to schedule an appointment so that we can conduct a thorough examination. During this private consultation, we will also discuss any questions you have as well as what treatment options will be best for you. And to read the entire interview with Maria, please see the Dear Doctor magazine article "Maria Menounos."