My Blog
Posts for: February, 2019
By Brookfield Dentistry S.C
February 17, 2019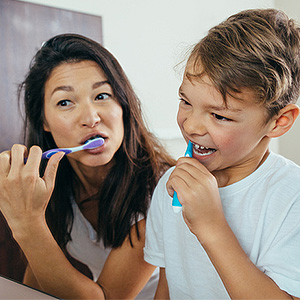 Your child's oral development generates considerable changes during their "growing up" years. There are a number of things you can do to help support their development—but also things you shouldn't.
Here are 4 things not to do if you want your child to develop healthy teeth and gums.
Neglect daily oral hygiene. To set the best long-term course for optimum oral health, begin cleaning the inside of your child's mouth even before they have teeth. Simply use a clean wet washcloth to wipe their gums after feeding to reduce bacterial growth. Once you begin seeing teeth, start brushing them every day with just a smear of toothpaste; at about age 2 you can increase that to a pea-sized amount. And don't forget to teach them when they're ready to brush and floss on their own!
Allow unlimited sugar consumption. Besides the effect it has on overall health, sugar is also a prime food source for disease-causing oral bacteria. You can reduce the sugar available for bacterial growth by avoiding sugary snacks and limiting sweet foods to meal times. Less sugar means less bacterial growth—and a lower risk of tooth decay for your child.
Put them to bed with a sugary liquid-filled bottle.  Although a bedtime bottle may help calm your baby to sleep, it could also increase their risk of tooth decay. Allowing them to sip on sugar-filled liquids like juice, milk, formula or even breast milk encourages bacterial growth. Bacteria in turn produce acid, which can dissolve the minerals in enamel and open the door to tooth decay. Sipping through the night also deprives saliva of adequate time to neutralize acid.
Wait on dental visits until they're older. Dental and pediatric associations all recommend first taking your child to the dentist sooner rather than later—by their first birthday. Starting dental visits early will help you stay ahead of any developing tooth decay or other oral problems. And just as important, your child will have an easier time "warming up" to the dental office environment at a younger age than if you wait. Dental visit anxiety, on the other hand, could continue into adulthood and interfere with regular dental care.
If you would like more information on the best dental care practices for your child, please contact us or schedule an appointment for a consultation. You can also learn more about this topic by reading the Dear Doctor magazine article "Top 10 Oral Health Tips for Children."
By Brookfield Dentistry S.C
February 07, 2019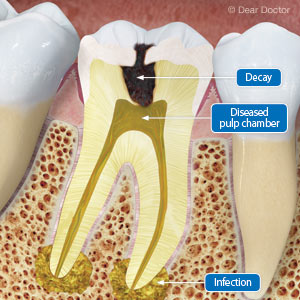 A root canal treatment is a common procedure performed by dentists and endodontists (specialists for inner tooth problems). If you're about to undergo this tooth-saving procedure, here's what you need to know.
The goal of a root canal treatment is to stop tooth decay within a tooth's interior and minimize any damage to the tooth and underlying bone. This is done by accessing the tooth's pulp and root canals (tiny passageways traveling through the tooth roots to the bone) by drilling into the biting surface of a back tooth or the "tongue" side of a front tooth.
First, though, we numb the tooth and surrounding area with local anesthesia so you won't feel any pain during the procedure.  We'll also place a small sheet of vinyl or rubber called a dental dam that isolates the affected tooth from other teeth to minimize the spread of infection.
After gaining access inside the tooth we use special instruments to remove all of the diseased tissue, often with the help of a dental microscope to view the interior of tiny root canals. Once the pulp and root canals have been cleared, we'll flush the empty spaces with an antibacterial solution.
After any required reshaping, we'll fill the pulp chamber and root canals with a special filling called gutta-percha. This rubberlike, biocompatible substance conforms easily to the shape of these inner tooth structures. The filling preserves the tooth from future infection, with the added protection of adhesive cement to seal it in.
Afterward, you may have a few days of soreness that's often manageable with mild pain relievers. You'll return for a follow-up visit and possibly a more permanent filling for the access hole. It's also likely you'll receive a permanent crown for the tooth to restore it and further protect it from future fracture.
Without this vital treatment, you could very well lose your tooth to the ravages of decay. The time and any minor discomfort you may experience are well worth the outcome.
If you would like more information on treating tooth decay, please contact us or schedule an appointment for a consultation. You can also learn more about this topic by reading the Dear Doctor magazine article "Root Canal Treatment: What You Need to Know."